Gola di Gorroppu
Listed under Canyons in Sardinia, Italy.
To make a change from the local beach at Cala Gonone where I'm on holiday, we headed inland today, where the terrain quickly becomes rocky and mountainous. West of the town of Dorgali we followed signs for Gorroppu and were soon on an uneven dirt track which gave us a few nervous moments with the hire car. We were heading for Gola di Gorroppu, a deep gorge, where the walls rise steeply to 200m on both sides of the canyon. In spring you must choose your moment carefully to trek here, in case you get swept away by a flash flood.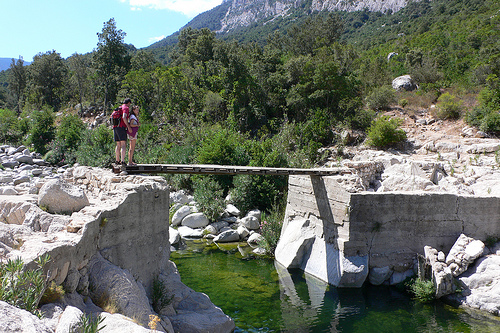 River near Gola di Gorroppu in Sardinia
On parking the car we crossed the river on a makeshift bridge made of metal pipes and old planks and walked along beside the river full of white boulders and pebbles. The children were all for swimming under the bridge but I urged them to walk a little further, following an Italian family with towels and picnic bags who looked as if they might be heading for a more idyllic spot. After 20 minutes we found the place beside a deep rocky pool with large flat boulders to make a jumping platform and a place to sunbathe and a few bushes of pink flowered Oleander providing shade.
Continue reading on heatheronhertravels.
Written by
heather on her travels.
Comments, reviews and questions by other travellers
There are no posts. Why not be the first to have your say?
No travelers have told us they have been here. Have you?
Similar Experiences
The hardest part for me was the steep ascent back up- the high altitude and steep rock faces made for an adjustment. After 6 ho…

Wulingyuan was China's first national park. There are over 3000 sandstone pinnacles in a maze of canyons; a network of trails, …

Bryce Canyon isn't really a canyon, but a series of horseshoe shaped aphitheatres filled with mazes of spiked, coloured rock fo…
Nearby Experiences
If you arrive by sea – and it's the best way, because you'll feel like a castaway - the Cala di Luna beach appears like a segme…

"Charming rural hostelry of fabulous food - a real gem"

When the tracks for the Little Green Train were laid in 1888 they were to transport farmers and shopkeepers and local functiona…
Related links
Contribute to this page