Instead of dogsledding, we got to go whale watching.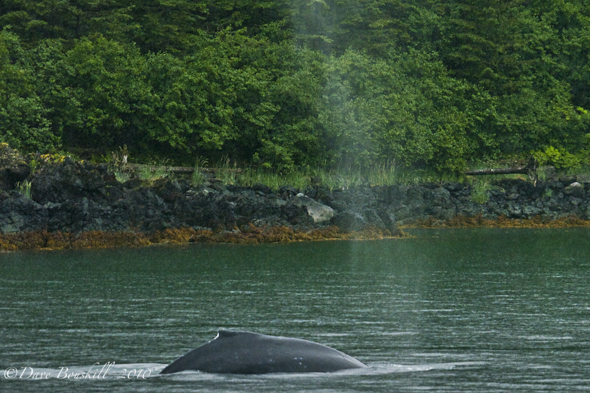 Whale Watching in Juneau, Alaska
Juneau is one of the best places on earth to spot hump back whales. In fact, they are so sure that you will spot a whale, that if you don't, they will give you $100 off the price of your excursion.
We climbed into the bus where our driver told us several facts about Juneau. Some people love a running commentary, but we found that every excursion had way too much talking. It is great to feed us facts, but people also love a little silence to take in the moment and the views. It is like the guides are told to never ever leave a moments silence.
We did learn a very cool fact though…The BirdMan of Alcatraz AKA: Robert Stroud killed a man named Charlie in Juneau for viciously beating his girlfriend Kitty. And that is how he ended up in Alcatraz.
The blue Ice floes at the Mendenhall Glacier in Juneau, Alaska
We started our trip at the Mendenhall Glacier park headquarters. The rain was coming down hard, but the ice still had a beautiful blue hue about it. We braved the frigid rain and walked around for a closer view. This is one massive glacier, but it was incredible to see just how much it has receded in the past 100 Years. Since 1910, it has lost 1.75 miles (2.8 km) That's a lot of ice melting especially when you factor in how thick the glacier is.
Continue reading on theplanetd.com
Comments by other travellers
There are no posts. Why not be the first to have your say?