My mother had been especially recommended to see the Michaelkirche or church of St Michael in Berg am Laim which is reputed to be one of the most beautiful Rococco churches in Southern Germany and so we duly left the well-trodden tourist routes of central Munich for the suburbs. Although Berg am Laim is only 5 stops on the S-Bahn from Marienplatz, it felt a world away with a sprinkling of snow over modern houses and appartments. We walked for about 20 minutes from the station, regularly asking passers-by in our best phrasebook German "Wo ist die Michelkirche?" and they would point us ever onwards.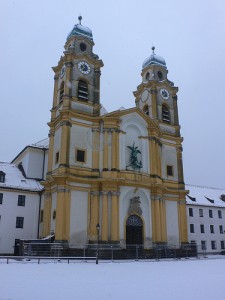 Finally we passed through the village centre and down a residential road where we found the Michaelkirche looking much like any other local parish church from the outside. We entered and found the main church barred by a wrought iron grille with a gate that was locked. Beyond, at the front of the church we could see a group of children practicing for their nativity play with a few parents sitting watching. We rattled the grille hoping someone would come to open it, but nobody did, and after further exploration, we found an open side door and ventured down the corridor and into the church near the altar.
Continue reading on heatheronhertravels.com
Comments by other travellers
There are no posts. Why not be the first to have your say?
Heather's blog is about travelling around the world and in her imagination. Sometimes she wanders around hers home town of Bris…