If you are interested in the Caretta Caretta Turtles on the Greek island of Zakynthos (Zante) and want to travel with a small footprint, you'll enjoy my interview with Yannis Vardakastanis from the Earth Sea and Sky centre on Zakynthos.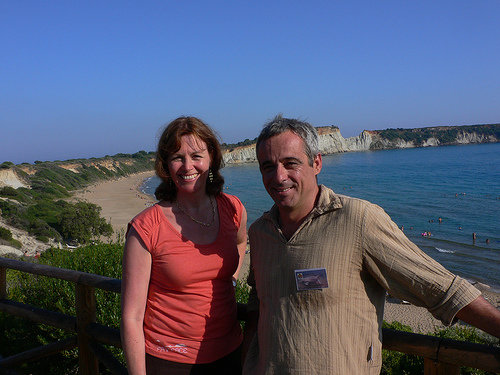 On my holidays to the Greek island of Zakynthos, I've often visited the Turtle information centre at Gerakas beach, run by Earth Sea and Sky organisation, dedicated to preserving wildlife in the Ionian Islands. Yannis Vardakastanis who runs the centre, has won several conservation awards for his work to preserve the Caretta Caretta, or Loggerhead Turtles that nest on the beach near where he grew up. Here's my interview with Yannis which will interest all of you committed to travelling in harmony with the natural environment.
Yannis, your family's from this part of Zakynthos, so what got first got you interested in the turtles?
The thing that got me interested in the turtles was the richness of wildlife you see around you. It's so important for us to save them, and preserve them for the next generation. The sea turtles have been here for thousands of years using the beaches of Zakynthos at Gerakas. I grew up here, and my family comes from this area of the island, so my first steps of life were down on Gerakas beach and I grew up playing with the turtles and swimming with them. In those days it was just me and my family and sometimes I found myself in the middle of the summer in July and August on my own with the turtles.
Read the rest of the interview on Heather's blog
Comments by other travellers
There are no posts. Why not be the first to have your say?
Heather's blog is about travelling around the world and in her imagination. Sometimes she wanders around hers home town of Bris…