As well as being a land of olive groves and medieval hill-top towns, the region of Istria in Croatia is home to the highly prized white truffle. Always wanting to experience the best of any region and having heard how the largest truffle in world was found here, we set out on a truffle hunt.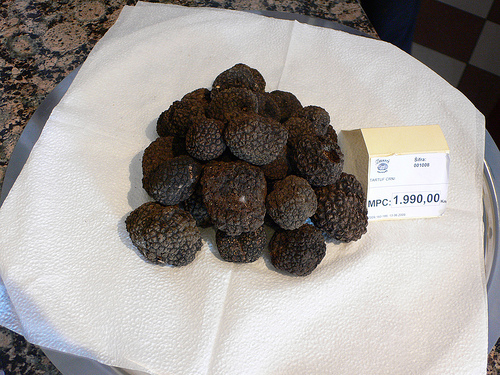 As every gourmet knows the truffles are at their best in the autumn and winter months and as we were there in August, I had to content myself with truffle hunting on a plate rather than at the roots of some woodland oak tree. This highly prized knobbly fungus is found around the town of Motovan where the Mirna river helps provide the moist woodland soil where truffles thrive. We stopped at the nearby village of Livade where in October and November a Truffle festival is held and all year round you can visit the Zigante restaurant and shop, devoted to truffles.
The restaurant offers a truffle tasting menu with every course infused with truffles down to the chocolate truffle mousse for desert - now that could be truffle heaven. As we had our children in tow who were not quite ready for the full truffle overload, I contented myself to buying a jar of truffle paste in the shop to bring home and peering through the counter at the small but extremely expensive pile of truffles for sale.
Moving on before we spent a small fortune, we reached the hill-top town of Grožnjan, home of many artists and galleries where we found a shady courtyard inn for lunch. Of course I had the homemade pasta in a creamy sauce topped by lavish shavings of truffles, while the children stuck to spaghetti bolognaise and coke. I managed to force them to taste a tiny mouthful in the interests of their gourmet education, although they probably didn't see it that way.
Comments by other travellers
There are no posts. Why not be the first to have your say?
Heather's blog is about travelling around the world and in her imagination. Sometimes she wanders around hers home town of Bris…