Hussain has a story, almost 20 years in the making.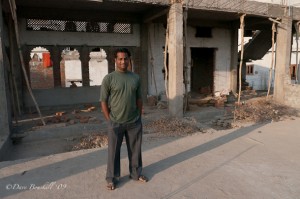 It is an extraordinary story and one that I was grateful to have him share with us. Hussein is the manager of our guest house here in Udaipur. We are staying at the Lakeshore Guest house south of the Hanuman Ghat overlooking the city and palace across the narrowest part of the lake.
He is a friendly man that loves to talk about life with his guests. He likes his place to feel like home. There are beds over looking the water with big pillows to lay on, tables and chairs are set up on the patio and relaxing music plays as people eat breakfast.
He has been leasing this property for 9 years and running the guest house while learning all about the hotel business.
A Dream Acheived
It is almost time for him to open his very own hotel across the road and we had the honour of having a first hand tour of the place.
Continue reading on theplanetd.com
Comments by other travellers
There are no posts. Why not be the first to have your say?
The World is one big adventure playground and Dave Bouskill and Debra Corbeil are out there experiencing everything it has to o…