When a person has a bad experience doing something normally they will say to themselves…"Never Again."
When Dave and I have a bad experience, we say to ourselves…"We need to find way to give this another shot.
Bikaner Camel Safari
Our safari didn't go quite as planned in Jaisalmer, Rajasthan. We had a sly guide and a disappointing experience that you can read all about in our post….Desert Safari Adventure, Not So Mystical in Rajasthan.
When we learned that we could go on a camel safari in Bikaner, a town 300 km north of Jaisalmer we just had to give it another try.
We made the mistake of not going with our instincts in Jaisalmer, and booked with a company that we had never heard of.
This time in Bikaner, we went straight to the guide book recommended expert on Camel Safaris.
The Camelman
The Camel man is an eccentric man that drives around in a Range Rover wearing a wide brimmed hat and impeccable suits.
Vijay is his name and he has been running camel safari's since 1983.
We booked our one day one night safari to the desert and we were told that we were in luck. A group of 20 doctors would be meeting us there for dinner.
We would get better food and entertainment and have some company at the same time.
It sounded like a good idea to us.
The Safari
We had a rough couple of days before Bikaner, so our expectations were quite low. We weren't too disappointed when we saw that even at the Camel Man the safari wasn't going to be very good.
I guess camel safari's in India just are not very fulfilling even for the average adventure traveler.
We were jeeped out about 10 km where we met our two camels, 3 guides and camel cart. Two men walked in front of our camels leading them along the path as one man drove the cart. Since we had a cart carrying supplies, we were stuck to the well trodden trail and we never left it.
Soon our two guides hopped on the cart and tethered our camels to it. We were now on a pony ride type excursion following the cart in a slow and boring fashion.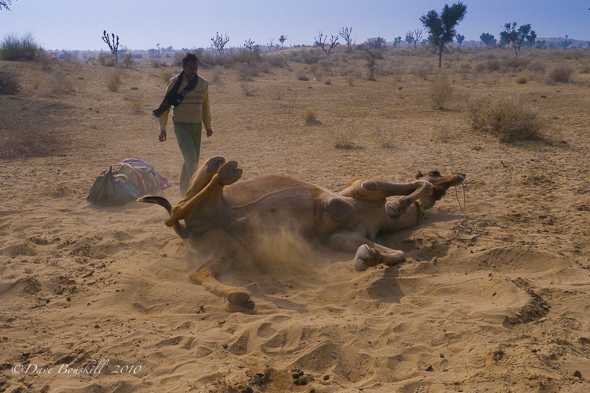 Continue reading on theplanetd.com
Comments by other travellers
There are no posts. Why not be the first to have your say?